I often wonder what it would be like to be a world-class athlete?
I often think of winning a gold medal or two or may be three in Commonwealth games.
I often find myself thinking of holding the Olympic torch and participating in one or two of Olympics meet. 
You must be thinking what's this all about? Why is this sudden burst of commonwealth and Olympic games? Is it an overdose of the ongoing FIFA world cup or the Wimbledon? To tell you the truth, I have been meaning to write about this wonderful and inspirational lady for quite sometime now. I met her in one of my holidays in the highlands (Scotland) and ever since meeting her; I felt the need of telling her story. 
I would like to introduce you to a former mid distance runner, world-class athlete, three times Commonwealth games gold medalist, Olympian, Olympic Torchbearer for the 2012 London Olympics, businesswoman and homemaker, Kirsty Wade. I have been trying to get Kirsty to write for Mumways for the last couple of weeks and persistence has just paid off. I am extremely grateful that Kirsty has spared some of her valuable time to pen for Mumways about her thoughts of parenting. She begins with the athlete with the flower, Alysia Montano who at 34 weeks pregnant competed in the 800m heat at the US Championships. I have seen her clips and videos and it's encouraging. Pregnancy is a natural way of life and according to her and her doctor, if your body is used to that type of exercise then it's good for both the mum and the baby. I will stop talking and pass it over to our Guest Writer, Kirsty…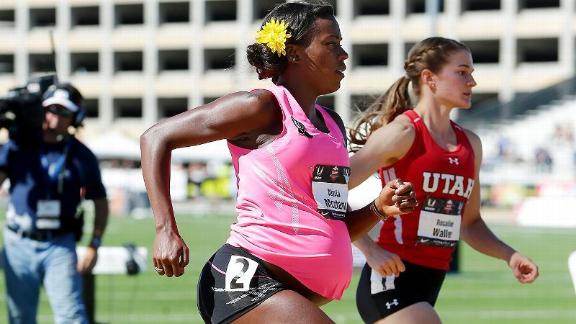 Kirsty Wade says,
"I have just watched a film clip of an American athlete called Alysia Montano competing in the US Track and Field championships at 34 weeks pregnant!
Her post race interview reasoning justifying her participation is interesting.
Her decision to run in that event highlights that we all make very different decisions about how we parent all the time even before our children are born.
What seems like a good idea to you may have others pouring opprobrium.
As an athlete in exactly the same position I would not have been interested in running competitive trial races for a whole variety of reasons but most importantly because it always seems better to err the side of caution when nurturing a new life. I, like most expectant mum's spent 8 months constantly worrying about the health of my unborn child.
The fear of harm coming to our children starts very early in their lives and most of us take a nervous course while pregnant, picking our way carefully through the minefield of advice.
Looking back, now I realise that it never really stops, this constant desire to do the 'best' thing in any given circumstances for your children.
My children are now 24/19/14 and yet everyday I catch myself worrying about useful advice I should give (if they ask) or approach I should take. With grown up children your anxiety is not diminished but your ability to act is!
Obviously that 'thinking' constantly about them is not as instantly important, as it was when they were babies or toddlers (after all at least 2 of them are very able to make their own decisions!) but for those of you with very young children I have to report that the 'worry' bond never leaves you!
When our eldest child was 9 we moved from an area just outside Newcastle, where we were happy, to the Isle of Lewis (an island of the north west coast of Scotland)
I have read about people who have done this and it looks like a naive, unrealistic and possibly foolish thing to do.
Maybe it was!
However we gave it a trial of 5 months to see if we would be round pegs in square holes and to see if we could cope with the wind and darkness of a long Winter!
We were welcomed warmly and we chose to stay if we could.
We have now been here 16 years. For our family it was a great decision.
Our children have been brought up in a spectacularly beautiful environment that allowed incredible freedom and opportunity. Good people surround us and they have had a fairly stress free and well-rounded education.
 I have juggled the children and worked from home it hasn't all been idyllic and some people would have hated it but .. As I said …we all make different decisions about parenting!
Many mums seem keen to get to the next stage ..
Delivery day…  Sleeping right through the night… Out of nappies … Into play group … First day at school … Past their exams…
Imagining that some how the next stage will bring some sort of ease.
It doesn't!
I never wanted to hurry …each stage seemed precious but I was never sad at the end of each little stage, first day at school did not see me hanky in hand at the gates.
Professional child care is not an option where we live but that means that mums work closely together and we share and co operate a lot especially as many of us have no family close.
For me though there are no regrets. I have been with my children. I am grateful.
I have always worked from home running a B and B, home care assistant, school assistant, fitness instructor. Anything that fitted in around the children's time at home!
 Life has often been hectic and the children have all had to learn to 'muck' in and help at home. (It's held them in good stead they have never been unemployed in Uni holidays and had Saturday and holiday jobs from when they were 14)
 I feel privileged to have been able to spend time with our children.
No regrets, not a way of life for everyone, but for us it worked …well  most of the time!
So that's it the crux of it ……each of us has to accept that we will always worry about the parenting decisions that we make but when it comes down to it we can only do our best in the circumstances and then just keep our fingers crossed!
Best wishes
Kirsty"
Kirsty further told me that she couldn't have done it without her husband Tony.  After the birth of their first child, she had experienced three eclamptic fits. As a result of that, she was sedated for a few days and her husband Tony stepped up as the primary carer. She said, "he was never distant from the nitty gritty of the childcare, it all felt shared. When I worried he calmed me, when I struggled he supported me, when I doubted my decisions he gave me confidence."
Thank you Kirsty for sharing your parenting values and tips with us! We had an amazing stay at your B and B and I wish you all the very best and I am sure that the readers are going to appreciate your ways of doing things. I feel proud to have met you and share this post with the world.
Much Love
Suranjita